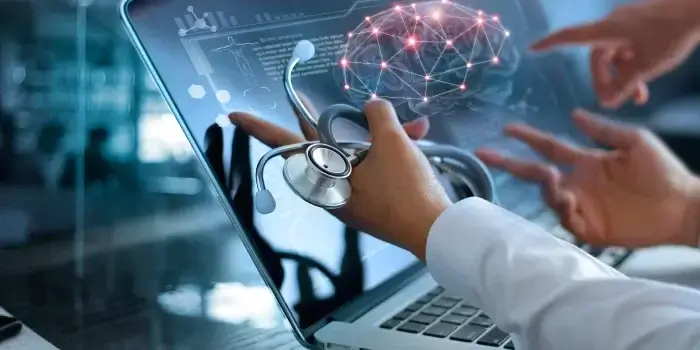 Why Big Data in Healthcare is so required?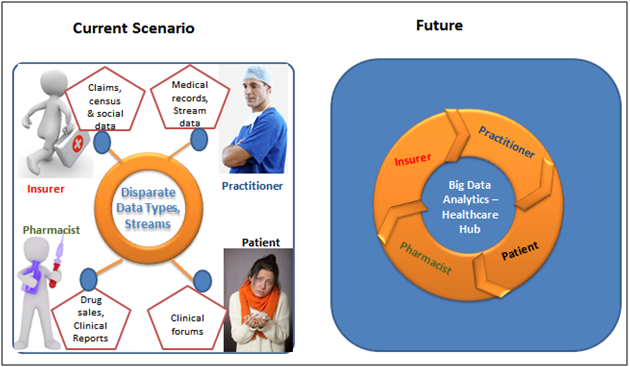 Figure 1: Need for Big Data Analytics
"Data analytics" refers to the practice of taking masses of aggregated data and analyzing them to draw important insights and information contained in it. This process is increasingly aided by new software and technology that helps examine large volumes of data for hidden information that can help us in many areas and healthcare is one of those areas.
80% of all healthcare information is unstructured data which is so vast and complex that it needs specialized methods and tools to make meaningful use of the data. The new and emerging technologies like artificial intelligence (AI), machine learning, and predictive analytics are bringing in powerful tools for healthcare technologists and thought leaders to capture these data and process it effectively and efficiently for the complete transformation of the healthcareindustry.Physician decisions are winding up increasingly prove based, implying that they depend on expansive swathes of research and clinical information rather than exclusively their tutoring and expert sentiment. This new treatment state of mind implies there is a more prominent interest for big data analytics in medicinal services offices than at any other time. There is almost certainly that big data has developed as a defining moment changer for the healthcare industry to enable it to advance to another level.
Obstacles to Data-Driven Healthcare
Figure 2: Obstacles to Big Data application in Healthcare
One of the biggest hurdles standing in the way to use big data in healthcare is how medical data is spread across many sources governed by different states, hospitals, and administrative departments. Reconciliation of these data sources would require building up another infrastructure where all information suppliers team up with each other.
Along with this new data analysis tools and strategies needs to be developed. Social insurance needs to get up to speed with different businesses that have effectively moved from standard relapse based techniques to more future-situated strategies like predictive analytics, machine learning, and graph analytics.
Role of Big Data Analytics in the Healthcare Industry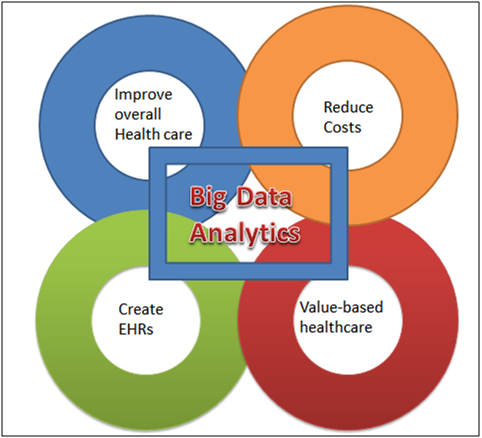 Figure 3: Impact of Big Data Analytics
Improving Overall Population Health
Big Data Analytics can assume a fundamental part in the prescription and the pharmaceutical business by building better health profiles and better predictive models around individual patients helping better diagnosis and treatment of ailments.
Big Data can help in conglomerating more data about a malady. The collected insights can drive exhibited clinical changes while rendering the capacity to comprehend similar viability in this way enhancing the general wellbeing states of a populace.
Reducing Healthcare Costs
Big Data is enabling the healthcare industry to reduce the per-capita cost of healthcare by reducing avoidable overuse of resources. Medical coverage endeavors are moving far from charge for-benefit pay model to esteem based information-driven motivations that reward astounding, financially savvy understanding consideration and display sensible utilization of electronic wellbeing records.
Big Data can help reduce the cost of fraud, waste, and abuse in the healthcare industry by analyzing large unstructured datasets of historical claims and identifying the fraud much before disbursing the resources.
Providing Patient-Centric Care or Value-Based Care
The goal of value-based care is to provide personalized treatment to the patient that is cost effective and measured based on patient satisfaction. The Big Data technology can encourage the healthcare industry to team up with specialists, clinics, and medical coverage to concentrate their procedures on tolerant results, requirement for giving a productive and esteem based care that is cost cognizant and straightforward in its delivery and billing.
Big Data is also playing a significant role in assisting the health insurers and public health systems to shift from fee-for-service compensation to value-based data-driven incentives that reward high-quality, cost-effective patient care and empower the meaningful utilization of electronic health records.
Creating Electronic Health Records (EHRs)
Creating and maintaining EHRs is, perhaps, the most across the board use of big data in healthcare. The main motive behind creating EHRs is to maintain a database of patient's health history. EHRs comprise a unique digital record for every patient that includes demographics, medical history, laboratory test results, allergies, etc.
The records are shared using secure information systems and are made available to healthcare providers from both public and private sector. Each record contains one modifiable file that can be changed by doctors over time, depending on the change of patient's health condition, with no paperwork needed, hence avoiding human errors.
Predictive Analytics to Improve Patient Outcomes
Predictive analysis of health is facilitated by EHRs that enables healthcare professionals to combine and analyze a variety of structured and unstructured data across multiple data sources aiding accurate diagnosis of patient conditions and improving treatment outcomes.
Predictive analytics is particularly helpful for patients with complex medical histories, suffering from multiple conditions. It helps doctors to take big data-informed decisions and improve patient's treatment.
Real-time Monitoring of Patients
The practice of medicine is shifting towards providing proactive care to the patients by constantly monitoring patient vital signs and this is powered by the Big Data technologies. Wearable devices with sensors present the opportunity of interaction with patients making the doctors instantly aware about the changes in a patient's condition.
The data from various monitors can be processed in real-time using machine learning algorithms, enabling physicians to make effective interventions and take lifesaving decisions.
Engaging patients as consumers
As information becomes increasingly available, patients are taking an active interest in their healthcare choices. For beginners, patients have become keener to evaluate services using information from the Web and other online channels. This highlights the importance of using analytics for risk-adjustment to provide the consumer with the accurate information to make informed decisions.
With increased information, patients are more engaged in their own treatments. They tend to play a role in collecting and sharing their own healthcare data with providers, which enables doctors to get access to the current state of the patient's health. This also allows for proactive analysis, based on which doctors can adjust the treatment and prevent potential problems.
Conclusion
The healthcare industry is moving towards confirm based prescription by utilizing every clinical datum accessible and calculating that into clinical and progressed examination to accomplish the triple point of enhancing the patient experience, enhancing general populace wellbeing and decreasing the per-capita cost of medicinal services.
The ability to capture, store, and share all the information about a patient together, provides a more comprehensive idea of a patient's health condition. This, in turn, leads to better care coordination, improved population health management, and enhanced patient engagement.
The 360-degree view of the patient, made accessible by the Big Data technologies, is changing the healthcare scenario by reducing errors in regulating and endorsing drugs, by eliminating repetitive and expensive testing, and even avoiding preventable deaths.