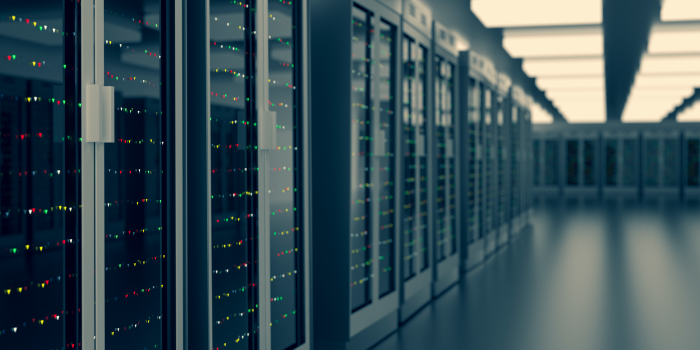 The benefits of leveraging a Customer Master Data Management (MDM) are known to experts across multiple industries. Essentially, it provides the most up-to-date and reliable 360-degree view of a customer to business users. While a lot has already been discussed about how enterprises use Customer MDM for operations, I will explore why a line-of-business (LOB) application's operational data store is not the same as an enterprise Master Data Management. And why having an MDM on the Cloud is even better in many areas.
Most operational applications that deal with customer data typically have their own customer data store. However, is it good enough or a good idea for it to be used as an enterprise MDM?
Despite a greater awareness of the concept of MDM and the benefits it brings to the business, some clients still ask us why they can't use the customer data store that is currently residing in their Enterprise Resource Planning (ERP) or Customer Relationship Management (CRM) systems, as their enterprise MDM? Some of their arguments include –
Data is already accessible - The data is already accessible by the application in the existing environment and is present in the location where internal users can access and utilize it.
Data and application are closely integrated – The application and the data store are designed and built to constitute one single system. The application is responsible for handling the life cycle of the data and maintaining the integrity of the data. The data stores usually contain customer data that are closely linked to other LOB-specific operational data, like accounts, bank transactions, loan applications, orders, and products.
Familiarity with the Data Model – Internal users are already familiar with the data model and have existing technical resources to maintain it.
No migration and transformation needed - Enterprises can avoid associated activities pertaining to migration and transformation, which means no spending is required on additional costs to move data to another system.
Cheaper ongoing cost - In some cases, the cost of the hardware and software are already sunk in because it has been in place for so many years.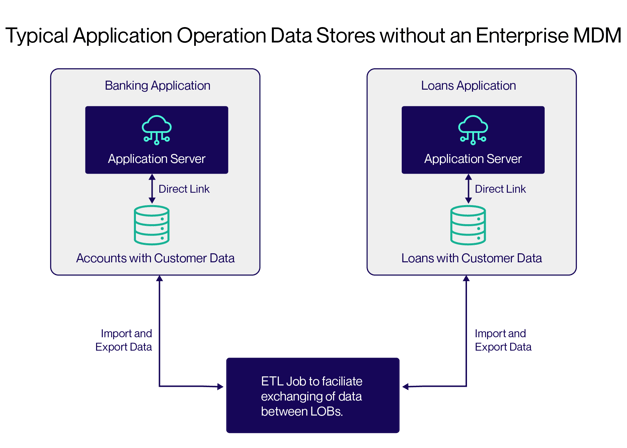 All of the points used by clients for the argument are valid. They might also work if the enterprise has one dominant line of business relying heavily on one or two applications only, to operate their business. But for big enterprises with multiple lines of business that use many specialized applications with multiple customer touchpoints, it becomes more complex and counterproductive.
From an overall Master Data Management practice and philosophy, making an application's operational data store as a customer master data is not a good idea, and some of the reasons are:
Different Views of the Customer Across LOBs – Putting customer data into the LOB application has been the practice since the early days of LOB applications. It has been the root cause of most master data woes that almost every enterprise IT and business professional has experienced. Even though businesses have accumulated a lot of data about customers, customers have experienced a lack of care from the enterprises, possibly due to 'ignorance.' This can be owed to the fragmented view of customer information and an absence of a unified view of customer data.
Data Ownership and Sharing – Customer data is a shared enterprise asset with significant value for multiple lines of business. Giving ownership to only one LOB will make it very difficult to share customer data. As a result, other LOBs will create their own version of the same customer, which will mean multiple silos of customer data. Once there are multiple inconsistent copies of the customer data, operational inefficiencies, lack of agility, lack of compliance, patch solutions, and unsatisfying customer service will emerge.
Lack of Data Governance – Data Governance function fails to accomplish its stated goals if the data is not shared, and the governance rules cannot be defined and maintained at the enterprise level.
Separation of Concerns – Application logic and customer data logic are two separate concerns. Putting both into the same system means the two get intermixed, making customer data more challenging to share with other lines of business.
Lack of Master Data Capabilities – The primary purpose of LOB applications is to implement the application logic for specific LOB business needs. Managing master data requires different kinds of capabilities that cater to enterprise needs. Without the built-in master data capabilities, the implementations end up developing those from scratch, with inferior quality at a higher initial and ongoing cost.
With the evolution of many commercial-off-the-shelf (COTS) MDM solutions, like IBM MDM, Informatica, Semarchy, Reltio, Talend, that are going to the Cloud, the argument for establishing an enterprise MDM is much more compelling. MDM on the Cloud can be a secure, robust option for delivering scalable and speedy time-to-value solutions for enterprises.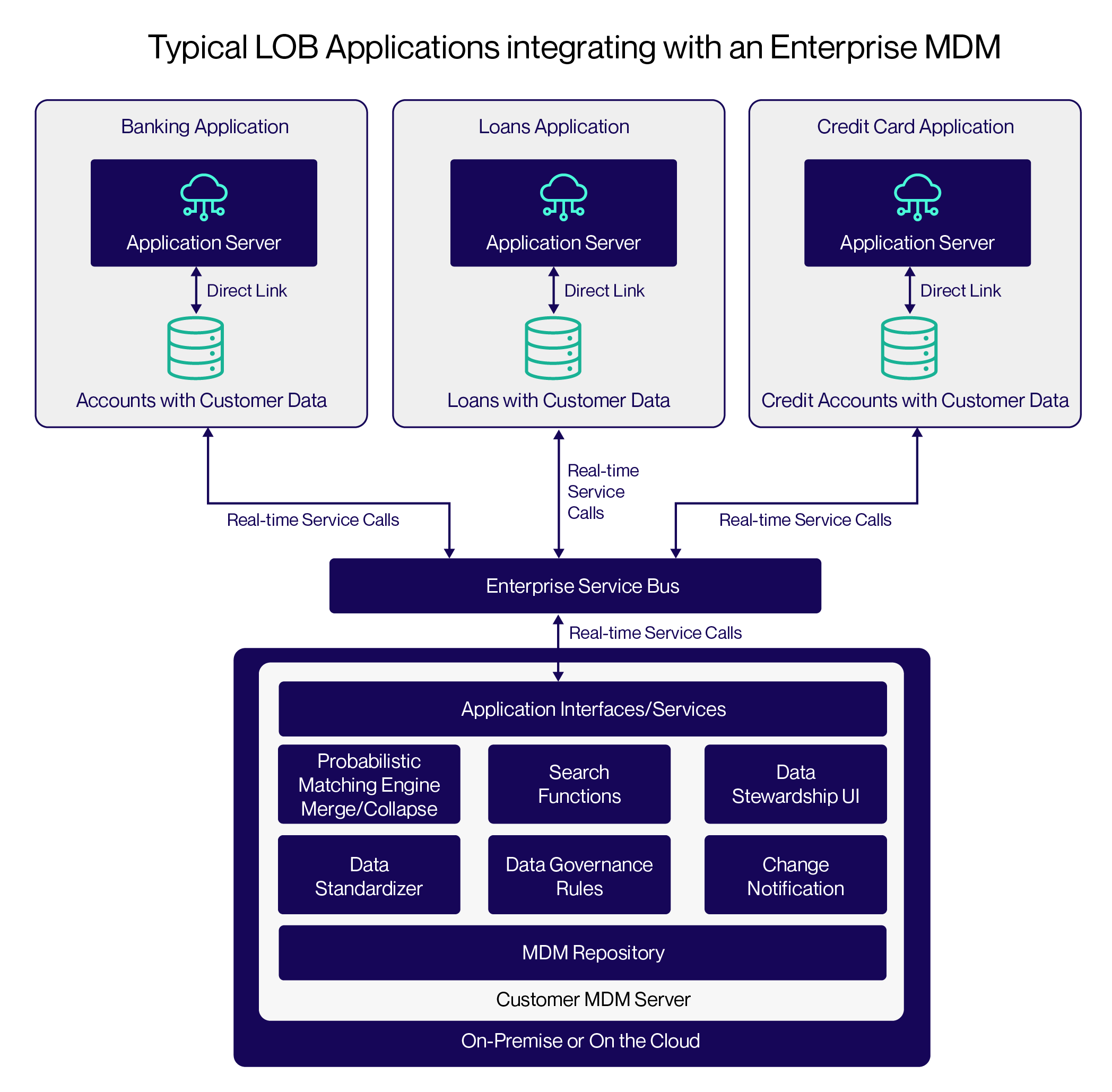 Key advantages of MDM on the cloud implementation compared to on-premises MDM deployment include -
Shorter Setup Time – Enterprises no longer need to order, wait for hardware and software to be available, and then spend time setting, since the MDM is readily available on the Cloud infrastructure.
Lower Initial Cost on Infrastructure – Enterprises avoid purchasing hardware and software upfront, which are considered CapEx items, for project inception and production deployment. Most vendors that provide MDM solutions on the Cloud have a very flexible pricing model, like buying t-shirts with small, medium, and large pricing tiers that constitute OpEx items and cost enterprises much less.
Better Scalability and Support – With Cloud platform services from Amazon, Microsoft, IBM, and Google, enterprises can purchase desired hardware size, operating systems, and support options, which can be seamlessly integrated with their legacy infrastructure. Enterprises just getting into Cloud MDM can start small and do not have to worry about getting the hardware and software capacity configurations right the first time. Cloud MDM also comes with improved elasticity because the parameters can easily be adjusted based on demand.
Simplified Maintenance and Upkeeps – The responsibilities for ensuring the high availability of MDM systems are passed on to the Cloud vendor. This includes security management, backup and recovery, upgrades, and facility costs. It removes the need for the enterprise to have its own in-house experts to manage environments.
Faster data discovery, accelerated time-to-value, lower capital expenditure, and improved scalability are some of the key strengths of MDM on Cloud, to name a few. By leveraging MDM on Cloud and retiring the traditional Customer Master Data Management platform, enterprises can achieve sharp oversight by assembling and querying enterprise data from one single repository. Enterprises still continue with their existing data management system for various reasons that are understandably valid. Yet, MDM on the Cloud offers observable advantages that secure a company's present and are also future-ready as they help accommodate additional technical capabilities.
At Mastech InfoTrellis, we have deep experience across many projects and many industries in implementing MDM both on-premises and on the Cloud. This level of knowledge, experience, and wisdom can significantly reduce the time from initial planning to realizing business value from MDM projects.
Tags
Data as an Asset

Einstein Ruiz
Director, Business Analyst
Einstein Ruiz, a seasoned IT professional with over 30 years of industry experience, specializes in MDM, data strategy, requirements gathering, and system development and boasts a successful track record in delivering mission-critical applications across various industries, including finance and healthcare.