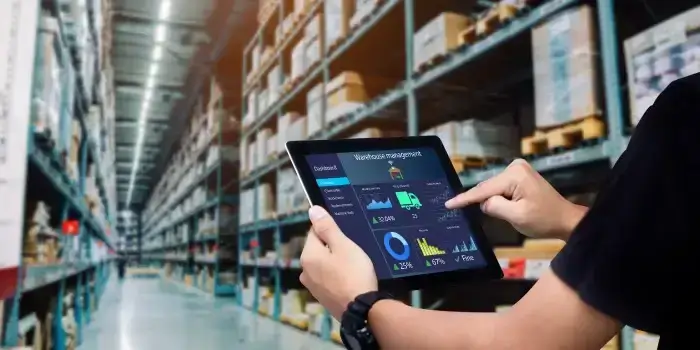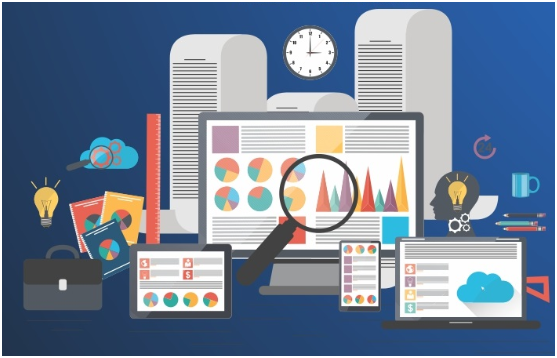 Figure 1: Predictive Analytics
Predictive analytics is the utilization of information, factual calculations and machine learning methods to distinguish the probability of future results in light of chronicled information. The objective is to go past recognizing what has happened to give a best appraisal of what will occur later on. Predictive analytics is utilized as a part of numerous divisions for future expectations with the help of machine learning and artificial intelligence.
Customer Behavior Analysis challenges and Business Dynamics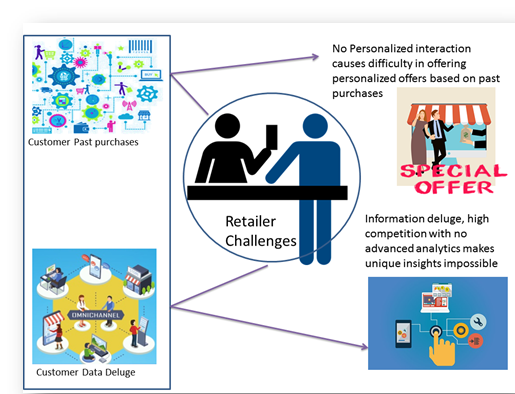 Figure 2: Customer Behavior analysis challenges
For many years retail industry has used the past years' experiences to come up with new offers and schemes. The straightforward demonstration of taking a gander at a client's past buys and afterward showing offers in view of these bits of knowledge makes a shopping background that quickly feels more individual. For quite a while, customized communication amongst retailers and clients appeared to be, to a great degree, hard to accomplish and wasteful for anybody beyond luxury retailers who could bear to commit the time, exertion, and assets required. Retailers today deliver more information than ever before. However, their enormous pools don't generally convert into fruitful results. Since there is so much data and in light of the fact that competition keeps on expanding, retailers are all the more unable to change over data into interesting bits of knowledge that give them an edge in drawing in future deals.
Big Data and Predictive Analytics
With the introduction of big data, it has become easy for such retailer to handle such large amounts of data and use it for their benefit. With the help of predictive analytics, they can take proactive action based on real-time data and predict future trends. After analysis, they come up with new strategies and offers to attract more business. It not only helps them identify the most popular products but also helps in determining the popular products or combinations preferred by the customers. Even for smaller retailers, combining these insights with predictive analytics can reveal new potential sales, display emerging trends, or even give an idea of new products prospective customers may want.
Data-driven retailer benefits using predictive analytics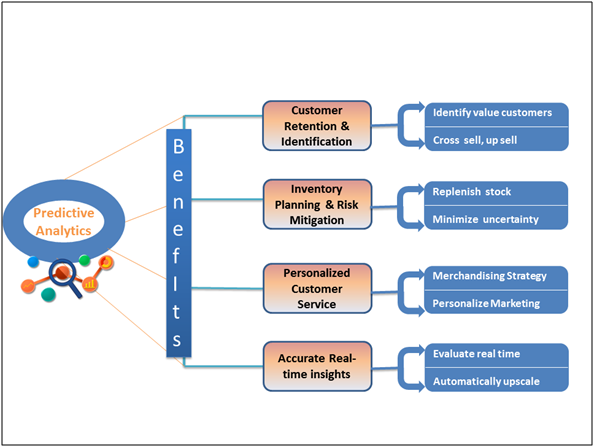 Figure 3: Predictive Analytics Benefits
Customer identification and retention
With the help of analysis, it is possible to identify valued customers and retain them, as well as identify potential customers and attract them with valued offers.
Inventory planning and risk mitigation
Predictive Analytics leverage big data and empower retailers to design their stock, renewal administration, and promoting methodologies in addition to minimizing risk and uncertainty. It is not only important to predict the pattern on a large scale but also to look at the minute details.
Personalized customer service
With a tremendous amount of information, it's easy to start assessing consumers on a more granular level. Rather than making a huge campaign that costs thousands and has restricted effect or achieve, predictive analysis can customize the showcasing procedure.
Accurate insights in real-time
Big data provides oversight and not only gives a bigger picture but it also gives insight about an individual. With predictive analytics, one can take a gander at every person and assess their buys continuously to precisely foresee what they would purchase in view of their particular purchasing propensities. What's more, predictive analytics can do the majority of this naturally and at scale.
Addressing the key challenges
Predictive analytics can address these four major challenges in a scalable way:
Figure 4: Solutions to Key Challenges
1. Setting up the right pricing
Setting costs for smaller retailers requires a greater amount of workmanship than a science. To date, numerous organizations still construct their costs with respect to notable information and built-up ideas, for example, regular propensities and patterns. Most retailers still hold up to drop costs until conventional deals periods, missing out on propel deals. This thus impacts incomes because of the monstrous value vacillations. Rather, utilizing predictive analytics can help locate the best circumstances to begin diminishing or pushing costs marginally in either direction.
Predictive pricing analytics collate order requests, item valuing history, contender movement, and stock levels. Also, naturally set ideal costs to react to showcase changes in real time. Utilizing predictive analytics to set costs enables retailers to consider every single conceivable factor continuously, something that would be inconceivable without data science and machine learning. Studies have demonstrated that steady value changes are more powerful than sudden spikes. Artificial Intelligence and predictive analytics can track stock levels and contender costs and gather requests to figure out what costs should resemble. Being proactive in moving costs can help separate the store and give better control over advancements while remaining a step ahead of the industry.
2. Inventory management
Poor inventory management leads to a loss in sales, which in turn paints an inaccurate picture of lower demand for certain items; making future order predictions based on that past data can be harmful. Rather, keen retailers utilize real-time information to move stock where it's required before it's past the point of no return. Furthermore, they utilize predictive analytics to choose what to stock and where in light of information about provincial contrasts in inclinations, climate, and so on. Retail has moved toward becoming as much about envisioning clients' needs as it is about just stocking decent items.
Organizations that develop with the circumstances and harness analytics can advance their endeavors and earn better outcomes because of proactive procedures rising up out of real-time insights. This enables retailers to distribute the correct items to the correct store at the ideal time and keep away from item squandering. Prescient Examination can be connected to numerous different territories in the retail business. It can be an enormous advantage to retailers and empowers associations to design their business in each viewpoint and reaction rapidly to market changes. It is imperative that organizations integrate predictive analytics into both the web and offline channels for a comprehensive view and practice omni-channel techniques.
3. Recommendation engines
Recommendation engines utilize an assortment of advances and procedures that empower them to channel a lot of information and give a little-centered assemblage of recommendations for the client. Retailers can likewise utilize intelligent search engines to prescribe reasonable options if items are out of stock. For instance, a site may coordinate a client towards sports coats if other open-air coats are out of stock.
For instance, obviously, it's anything but difficult to perceive how web-based businesses can utilize predictive analytics to make particular suggestions for specific clients on what they might like in view of past buys or even their informal communities (i.e., prescribing items their companions additionally purchased). Predictive algorithms gather and dissect information from different sources, for example, socioeconomics, advertising knowledge, reaction rates, and topography, notwithstanding client bits of knowledge together. By figuring out what campaigns would be more fruitful in view of these investigations, marketers can pinpoint the best message/item for a client. Targeted campaigns will lead retailers to achieve higher change rates.
As client experience is a standout amongst the most critical resources for retailers, predictive search ought to likewise be organized to pick up consumer loyalty and dedication. When we gather information at each and every touch point, smart algorithms empower us to get insights on client buy history, design, inclinations, site hits, interests and different types of commitment to create a single client view. Predictive analytics includes another value; we can anticipate what the clients' next activities may be and make proposals about significant items based on their behavior. The clients acknowledge pertinent proposals customized to their taste; in this manner, these suggestions will build client commitment and brand loyalty.
4. Smart revenue forecasting
Rather than estimating revenue in view of chronicled information from customers who may not be clients any longer, in the whimsical world of retail, predictive analytics takes into account more exact forecasts in light of the anticipated purchasing propensities for fresh out of the box new clients. Picking a Store location is a standout amongst the most key long-haul choices in the retail business. Predictive analytics can be utilized to gauge the potential income for a chose store area in view of socioeconomics, property market, focused action, market situations, and client buy control, buy practices and so forth before investing. These algorithms can likewise be utilized to break down and deal with the current locations.
Conclusion
Predictive Analytics is a tremendous aid to the retail business as it encourages them to comprehend and identify with their clients' needs and needs. Retail food merchants can use Predictive Analytics to numerous more zones of their operations, both client-facing and at the back end. Retailers are adjusting analytics to pick up insights into their clients. These insights are being utilized to create a new type of retail: one that is effective, shrewd, and helpful towards empowering brand dependability and better client experience.
About the Author
Garima Jain is a Technical Consultant at Mastech InfoTrellis. She has been part of successful teams that shaped up Big Data landscape for our prestigious clients.