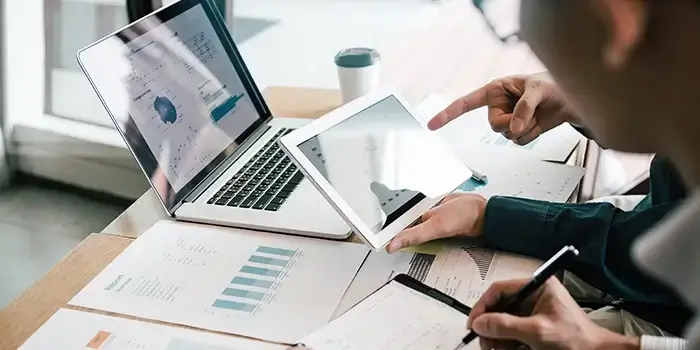 IBM InfoSphere MDM Collaborative Edition, IBM's offering in Product Information Management space, enables companies to master golden copy of product information that can be consumed throughout the organization for strategic business initiatives. With every new version of MDM CE, the product has been loaded with new handy features that the businesses have been yearning for, performance enhancements that will save valuable time for business users and cost for businesses.
This blog post provides insight into the new features introduced in MDM CE versions beginning from version 11.0 till version 11.6.
What's new in Version 11.0?
The major enhancements offered in this version include Business User Workflow Dashboard, Products' relationship view, ACM, and Search Templates. Let us see what value add these enhancements offer.
Business User Workflow Dashboard
This dashboard is bundled as an OOTB asset, and once installed this can serve as the new home page for business users
The new workflow dashboard is designed to simplify the job of a typical business user, providing a complete graphical view of currently assigned entries and tasks with priorities.
It is an intuitive portal to quickly navigate to workflows, workflow steps, or entries and has the ability to easily launch entries in single or multi edit views so that users don't spent time searching for their tasks and products to work upon
And guess what? This dashboard can be customized to suit business needs as well.

Sample Workflow - Dashboard
Customizable Labels for Products and Categories
Think of a massive catalog of a retail business that sells all of its products, from iPhones to beverages, via an e-commerce channel. A business user is searching for a particular product by its name or another attribute so that he can enrich the product information. All search results will look the same and user will be perplexed to know what kind of products these are. How handy it would be to figure if the product is a camera or a shoe by just glimpsing at the search results? This nifty feature has been added in 11.0, which allow labels and icons to be associated with individual categories like Camera or Shoe or even to individual products so that business user can understand the product types easily.
Product Relationships
GUI has been enhanced with a new tab that provides a list of products related to the current one viewed. For example, a Data Steward mastering the attributes of the iPhone 6 can find the iPhone 7 and iPhone 7 Plus in the Related Products tab, and he can master them from this screen rather than searching all over the place for other related products.
Advanced Catalog Management (ACM) Enhancements
Advanced Catalog Management for WebSphere Commerce is an InfoSphere MDM Collaboration Server solution accelerator that provides a solid platform for implementing a retail solution for catalog management with customization and extensions quickly.
The Advanced Catalog Management solution comes with a pre-configured data model in MDM CE which mirrors the data model of WebSphere Commerce, New Product Introduction, Manage Catalog Entry workflows. It also has predefined user roles with appropriate access privileges and integration capabilities with WebSphere Commerce to export the catalog entries. The ACM solution enhancements include:
Full export of Attribute Dictionary attributes and catalog groups
Selective export for catalog entry with defining/descriptive attributes
Support for SAX XML Parser in data load and concurrent data load
Search Enhancements
Searching capability within MDM CE got a major shot in the arm with the introduction of Search Templates. Let us think of 100 business users using the MDM CE application on a daily basis to manage the lifecycle of the Products offered by an organization. Every one of those users will have unique search needs while interfacing with MDM CE. Assuming that all users will have the need to search products by brand, standard cost and lifecycle status, then creating common search template and allowing the users to use them by supplying dynamic search clause saves time and effort.
What's new in Version 11.3?
MDM CE v 11.3 was launched with a revamped GUI, a solution accelerator for clients from the banking and insurance domain, free text search capability enabled by integration with IBM Watson, and enhancements to ACM.
Banking Solution Accelerator
The Banking Solution Sample is a set of assets that contribute to an overall solution to the challenge that banks have in creating and selling their products. This sample asset consists of
A data model based on IBM Information Framework implemented in IBM InfoSphere Master Data Management Collaboration Server
Integration with IBM InfoSphere MDM Advanced Edition that enables hierarchies and items to be published through transactions
In BFSI (Banking, Financial service insurance) organizations, MDM AE could be used as the system of record for Customer and Contract domains, and MDM CE could be used as the system of record for Product domain. In order to get the 360 Degree view of a customer it is required to sync up product information with MDM AE. The banking solution tool kit does not just help the BFSI organizations to build a PIM solution in short timeframe using MDM CE but also provides integration mechanism with MDM AE.
Advanced Catalog Management (ACM) Enhancements
The enhancements for integrating with IBM WebSphere Commerce include support for the following new features:
Multiple stores including e-Site Store, Direct Store, Catalog Asset Store, multiple catalogs including Master Catalog and Sales Catalogs, and support for multi-valued descriptive attributes.
Search Engine Optimization(SEO) attributes for catalog entries and catalog groups
Attribute Groups for grouping attributes in the Attribute Dictionary
Additional facets for attributes in the Attribute Dictionary including Displayable, Comparable, Sequence and so on.
Support for multiple languages
Customizable views for data entry screens
Watson Search Capabilities
Watson Search is a free text search capability that scans the content of your InfoSphere MDM Collaboration Server catalogs according to the search parameters you enter and then returns detailed search results with descriptions and thumbnails. MDM CE integrates with IBM InfoSphere Data Explorer (DE) to provide the Watson Search feature to offer accurate and quicker search results.
Some of the highlights of this feature include:
Static free text search bar available on all business screens.
Ability to search items and their attributes across all catalogs.
Detailed search results with descriptions and thumbnails.
Ability to open a result for a single edit or select multiple results for bulk edits.
What's new in Version 11.5?
There are two major areas of enhancement when it comes to version 11.5. They are Integration with Watson Explorer and Digital Asset Management, which are definitely an asset to the product.
Watson Explorer Integration Enhancements
Watson integration received a facelift in this version. There are several related new and enhanced features, which include:
Role-based security enforcement on search result sets so that only users entitled to view a certain group of items get to see them.
Selection filters for catalogs and attributes for export
Search result display can be configured now
Performance improvements to data exports
Digital Asset Management (DAM) for MDM
For more information on what Digital Asset Management offers, refer our blog
What's new in Version 11.6?
The newest kid in the block, v 11.6, comes up with a brand new, refreshing alternate UI, the Supplier Persona UI, which might very well replace an already ageing classic UI. This new UI certainly deserves a dedicated blog, so we will cover it in detail in one of the upcoming blogs. Another major boost is the introduction of RESTful API support for the MDM CE application.
Supplier Persona UI
The Supplier Persona UI comes as an installable, no-strings-attached asset built on top of HTML 5 that includes improved navigation experience, search, and collaboration areas on the Dashboard. What do we get with this new UI?
Rebranding it to your organizations needs by adding company name, logo and customizing the theme
Search results can be saved for future reference or exported as a report across the product
Accessibility features of Supplier Persona UI help users with physical disabilities, such as restricted mobility or limited vision, to use software products successfully.
Ability to work with single or bulk of items in catalog or in collaboration area in an efficient fashion
User-enabled tasks:
Use assistive technologies, such as screen-reader software and digital speech synthesizer, to hear what is displayed on the screen. Consult the product documentation of the assistive technology for details about using those technologies with this product.
Operate specific or equivalent features by using only the keyboard.
Magnify what is displayed on the screen.
REST – API Support
MDM CE has offered the framework to build and host web services for a long. Since the emergence of the RESTful API as the preferred alternate, primarily because of the no-frills and lightweight nature, a lot of our very own customers have been inquisitive about REST API in MDM CE.
The product now supports REST API calls to accomplish most of the create, delete, update, search operations on MDM CE entities like Item, Collaboration Area, Lookup Table, and Jobs. This opens up a new avenue for high-performance integration of MDM CE applications with its upstream and downstream systems.
Conclusion
Hope we have given you more than compelling reasons to upgrade to the latest IBM MDM Collaborative Edition to reap the benefits of the latest and greatest version yet. To conclude, it is always better to opt for the latest and greatest version of the product to have a very satisfactory workspace.
Tags
Data as an Asset

Shruthi S
MDM Consultant
She has good knowledge on IBM MDM CE framework, has 2 years of experience in IBM Master Data Management Collaborative Edition