Jacob Samuel
SVP, Integrated Digital Transformation Practice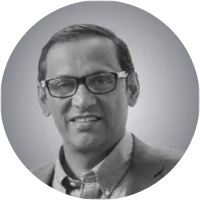 Jacob Samuel joins Mastech Infotrellis as Senior Vice President and leader of the Integrated Digital Transformation practice, where he will lead the efforts in shaping clients' digital transformations with a systematic and strategic perspective. Jacob brings unique strategic insights and a successful track record of connecting customer-centric outcomes with business goals and approaching product development with an ingenious touch. He has cultivated an innovative outlook toward problem-solving, combining design, service, and systems thinking.
Jacob has proven expertise in platform implementation and platform integration strategy. He collaborates with enterprises to design and build future digital products and services that cut across customer experience, business model evolution, digitalization, and operations. His robust technology, services, and personnel management skills are well appreciated by clients and colleagues.
He holds a master's degree in Computer Science and MBA from US universities.