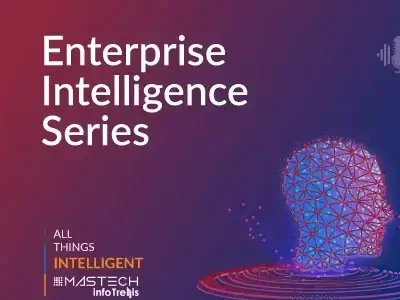 Episode 2 | November 30, 2022
Enterprise Intelligence: Tenets of Intelligence Architecture
Hosted by Prad Upadrashta
In the second episode of the Enterprise Intelligence series, Jeff Pohlmann, VP & GM, Data Engineering, and Prad Upadashtra, Chief Data Science Officer at Mastech InfoTrellis, discuss the concept of intelligence architecture and building the framework for this in an enterprise.
Hosts

Prad Upadrashta
Data Scientist, Mastech Infotrellis
Pradyumna, or "Prad" for short, is a senior analytics executive and experienced data science practitioner with a distinguished track-record of driving AI thought leadership, strategy, and innovation at enterprise scale. He has over 20 years of experience, culminating in the role of Chief Data Science Officer at MIT. His focus areas are Artificial Intelligence, Machine/Deep Learning, Blockchain, IIoT/IoT and Industry 4.0.
Speakers

Jeff Pohlmann
Vice President, Mastech Infotrellis
Jeff comes to Mastech InfoTrellis after a successful tenure at Teradata as VP, Americas Consulting. Prior to joining Teradata, Jeff held executive roles at Oracle, Big Data/Analytics, Genpact, Industrial Analytics, IBM, Global Oil and Gas Innovation, and SPSS, Analytics Consulting. Jeff served around the globe as an officer in the United States Marine Corps. He brings with him +20 years of experience in global consulting, sales, and operations.