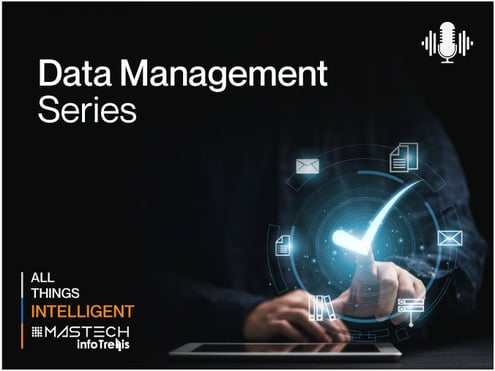 Episode 1 | November 30, 2022
Constructing a Robust Data Estate - Merging the Worlds of Data Management and Governance
Listen to Jeff Pohlmann, VP and GM of Data Engineering at Mastech InfoTrellis, in conversation with Mark Rowan, CEO at Data Sentinel, expounding upon Data Management, Data Governance, the intricacies of data compliance, and the need for building a robust data estate that supports diverse business and technological endeavors.
Hosts

Jeff Pohlmann
Vice President, Mastech Infotrellis
Jeff comes to Mastech InfoTrellis after a successful tenure at Teradata as VP, Americas Consulting. Prior to joining Teradata, Jeff held executive roles at Oracle, Big Data/Analytics, Genpact, Industrial Analytics, IBM, Global Oil and Gas Innovation, and SPSS, Analytics Consulting. Jeff served around the globe as an officer in the United States Marine Corps. He brings with him +20 years of experience in global consulting, sales, and operations.
Speakers

Mark Rowan
Chief Executive Officer at Data Sentinel Inc.
Mark Rowan is the CEO of Data Sentinel and a veteran entrepreneur with over 30 years of experience delivering enterprise solutions in data and analytics. At Data Sentinel, Mark develops and executes growth strategies for the company and supervises the sales, marketing, and partner channel.