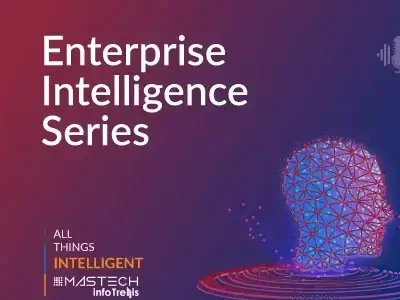 Episode 1 | November 30, 2022
Architecting Intelligence with Smart Ingestion
In the fourth episode of the series on Enterprise Intelligence, Jeff Pohlmann, VP & GM, Data Engineering, and Prad Upadrashta, Chief Data Science Officer at Mastech InfoTrellis, discuss new techniques to capture and ingest data that can help enterprises drive better business decisions. Listen to the podcast to understand the architecture that supports smart ingestion.
Hosts

Jeff Pohlmann
Vice President, Mastech Infotrellis
Jeff comes to Mastech InfoTrellis after a successful tenure at Teradata as VP, Americas Consulting. Prior to joining Teradata, Jeff held executive roles at Oracle, Big Data/Analytics, Genpact, Industrial Analytics, IBM, Global Oil and Gas Innovation, and SPSS, Analytics Consulting. Jeff served around the globe as an officer in the United States Marine Corps. He brings with him +20 years of experience in global consulting, sales, and operations.