How We Stand Tall in a Short Crowd Amidst High Attrition
System Integrators experienced 25.2% attrition in 2022 across their customer's projects. This not only caused delays and cost overruns to existing projects, but a significant amount of frustration and annoyance amongst their enterprise customer base. Mastech InfoTrellis stands tall with 9% attrition. 91% of our top talent stays with us year after year. Why do our folks stay and what does that level of retention mean for your business?
Find out
Stable as a Rock
Our workforce is rock solid. You'll experience lower rotation on your projects, faster problem-solving, and super-high stickiness within teams.
Stellar Service Delivery
95% of our projects remain in the green! Unbroken service delivery, fewer hiccups, speed, and agile implementation are the magic ingredients of our remarkable delivery.
Top-notch Technical Expertise
When you're in the middle of a challenging project, our high-performing employees are built to weather any storm with their deep technical know-how from working on dynamic projects and continual upskilling programs!
In it for the Long Haul
When our teams stick around, they get to know you and your teams, your applications/data and the business usage of them, and more – inside out. Your projects have a higher chance of meeting SLAs for both time-to-execute and quality. We're there when you need us the most, always.
Unravel the secrets behind successful project delivery
91% Retention Rate? WOW!
Majority of Our Top Performers Stay
Our workforce is chock-full of high performers. We reward them meritoriously as they see our client challenges as an opportunity to prove their mettle. The outcome? Innovation-driven problem-solvers who stick around!
Updated with Cutting-edge Technology
Continual on-the-job training, access to resources, and modern technologies ensure our team is always ahead of the line with their technical skills. As a result, you get the best value for your technology investments.
Problem-solving On-the-go
We don't let problems linger – our problem-solving approach is underscored by speed and velocity. Our processes reflect the best practices and learnings gathered through our experience. We translate all these into assured value with lower TCO.
Attrition
Killer of low rates, on time project delivery and potentially the reason you get fired.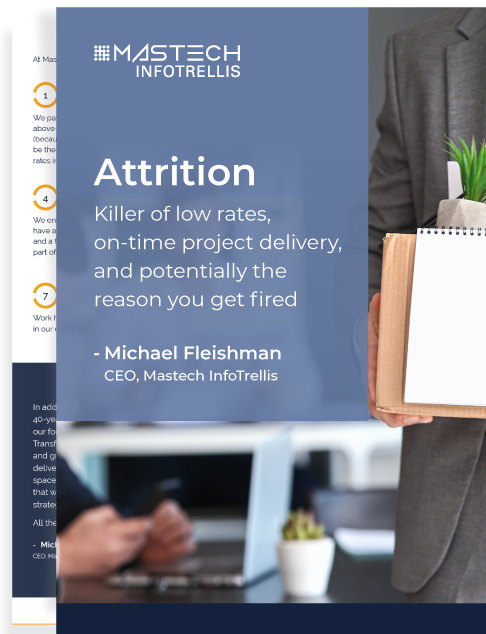 Our Offerings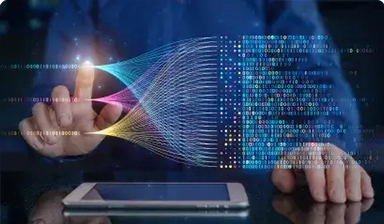 Data-in-Motion
Data Identification and Ingestion
We train systems to identify and collect data from various sources for storage and analysis. To support this, we have Data Structuring, Data Incorporation, and Data Engineering services that help you find the data you need and get it into your systems efficiently.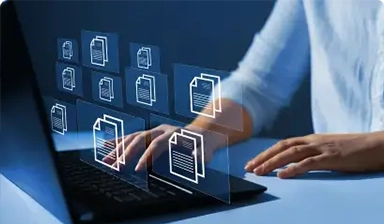 Data-as-an-Asset
Data Management and Warehousing
Discover the best way to manage and store your data with our comprehensive services for Master Data Management and Data Warehousing, designed to help you set up a secure and scalable system to store your data for the long term.
Data Activation
Analytics and Activation
Data is not good enough until it's activated! Find out how our Advanced Analytics, Data Decisioning, and Reporting solutions can turn your data into valuable insights, driving real business outcomes.
See It For Yourself
Get a personalized walkthrough on how we can help solve your data challenges and uncover hidden opportunities to transform your business.
Let's talk about how we can work with you
x
Disclaimer: 9% is the aggregated attrition at Mastech InfoTrellis during 2022.